Description
The CAN FD adapter PCAN-USB FD allows the connection of CAN FD and CAN networks to a computer via USB. A galvanic isolation of up to 500 Volts decouples the PC from the CAN bus. The simple handling and its compact plastic casing make the adapter suitable for mobile applications.
The new CAN FD standard (CAN with Flexible Data rate) is primarily characterized by higher bandwidth for data transfer. The maximum of 64 data bytes per CAN FD frame (instead of 8 so far) can be transmitted with bit rates up to 12 Mbit/s. CAN FD is downward-compatible to the CAN 2.0 A/B standard, thus CAN FD nodes can be used in existing CAN networks. However, in this case the CAN FD extensions are not applicable.
The monitor software PCAN-View and the programming interface PCAN-Basic for the development of applications with CAN connection are included in the scope of supply and support the new standard CAN FD.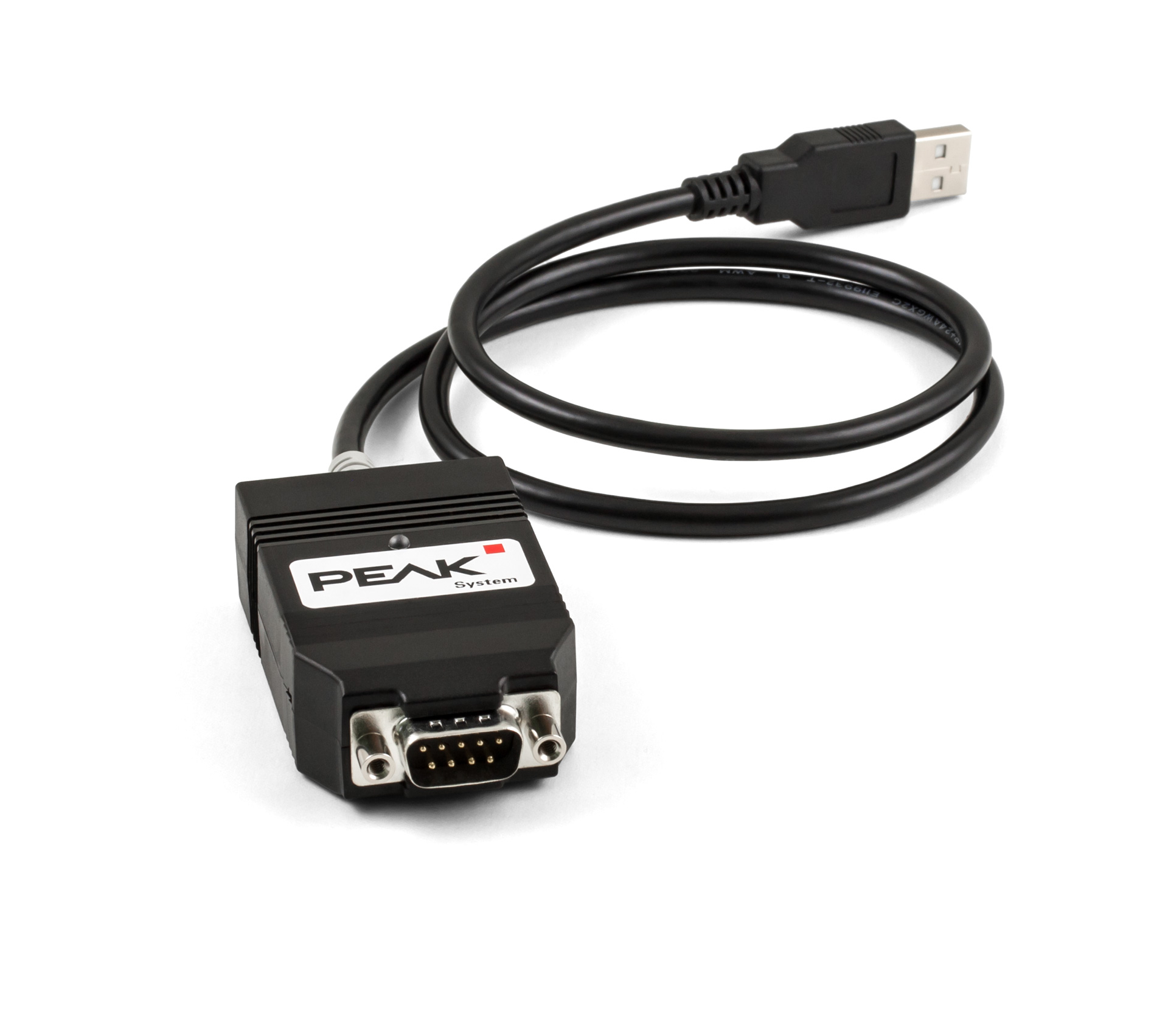 Specifications
Adapter for High-speed USB 2.0 (compatible to USB 1.1 and USB 3.0)
High-speed CAN connection (ISO 11898-2)
Complies with CAN specifications 2.0 A/B and FD
CAN FD support for ISO and Non-ISO standards switchable
CAN FD bit rates for the data field (64 bytes max.) from 25 kbit/s up to 12 Mbit/s
CAN bit rates from 25 kbit/s up to 1 Mbit/s
Time stamp resolution 1 μs
CAN bus connection via D-Sub, 9-pin (in accordance with CiA® 303-1)
FPGA implementation of the CAN FD controller
NXP TJA1044GT CAN transceiver
Galvanic isolation up to 500 V
CAN termination can be activated through a solder jumper
Measurement of bus load including error frames and overload frames on the physical bus
Induced error generation for incoming and outgoing CAN messages
5-Volt supply to the CAN connection can be connected through a solder jumper, e.g. for external bus converter
Voltage supply via USB
Extended operating temperature range from -40 to 85 °C (-40 to 185 °F)
Pin Assignment D-Sub

| PIN | PIN Assigmnet |
| --- | --- |
| 1 | Not connected / optional +5V |
| 2 | CAN-L |
| 3 | GND |
| 4 | Not connected |
| 5 | Not connected |
| 6 | GND |
| 7 | CAN-H |
| 8 | Not connected |
| 9 | Not connected |
Product Includes...
PCAN-USB FD in plastic casing
Device drivers for Windows® 11, 10, 8.1, and Linux (32/64-bit)
CAN monitor PCAN-View for Windows®
Programming interface PCAN-Basic for developing applications with CAN connection
Programming interfaces for standardized protocols from the automotive sector
Manual in PDF format
Note:
1. Prices and Specifications are subject to change without notice