SYNC 200 series – IED Protocol Upgrade Module
With the advent of superior protocols like IEC 61850, there is an increasing need for Intelligent Electronic Devices (IEDs) to be compliant with these new protocols while still maintaining interoperability with legacy ones. Kalkitech's SYNC 200 series of embedded chip products act as upgrade cards for incorporating latest smart grid substation and metering protocols in existing IED equipment design.
SYNC 200 module series offer the IED manufacturers the ability to upgrade to support almost any protocol like IEC 61850, DNP3.0, IEC 608570-5-101 / 103 / 104 and DLMS/COSEM with minimal change in product design, enabling faster go-to-market, while saving on R&D and product development costs. Additionally, the incremental R&D efforts in keeping up with the latest protocol developments is borne by experienced professionals from Kalkitech rather than the device manufacturers, allowing them to focus on their core strengths.

Overview
SYNC 200 (formerly named as SYNC OEM) is embedded in various devices like Protection Relays, Energy Meters, Mini RTUs, Transformer Monitoring Systems, PLCs, Switch gears and Alarm Annunciators, and is being used under long term agreements at more than 30 customer locations worldwide.
SYNC 200 modules are specifically designed for power industry applications, with superior processing capabilities as well as numerous interfacing options. SYNC 200 has been tested to withstand stringent temperature and environmental variations and has proved successful in a variety of industry segments. SYNC 200 modules are suited for high performance IEC 61850 requirements and can be used for General Purpose Input / Output (GPIO) and Generic Object Oriented Substation Events (GOOSE) based high-speed messaging. Numerous products using Kalkitech SYNC 200 series embedded boards have been certified at KEMA and CPRI test labs by various customers.
SYNC 200 provides not just one-to-one protocol conversion, but also many-to-many protocol conversion and supports a full set of protocols. Moreover, the small size and the various interfacing mechanisms like TTL, I2C SPI and GPIO make it ideal for a large variety of products and applications.
Kalkitech has developed a Developer Kit to help test and integrate the SYNC 200 modules with end devices quickly and with minimal costs. The Developer Kit comes with the necessary development board and sample SYNC 200 modules hardware, configuration tools and documentation, as well as 20 hours of free technical support.
Kalkitech also provides support for IEC 61850 Level A certification from KEMA on customer devices, CPRI and other certification agencies, built on its expertise in IEC 61850 and product management.

Key Features
General
Enables faster go-to-market
Provides extensive support for integration and testing: Starter Kit available for all SYNC 200 models along with free remote support
Interface options for TTL, I2C, SPI, GPIO
Can be customized to consume less power from end device
Provides flexibility in connectivity using General Purpose Inputs / Outputs
Available in with Serial + Ethernet / Fibre Optic versions
Software features
Supports many-to-many protocol conversions. Compatible with more than 30 protocols
Meets high processing capabilities required for IEC 61850 GOOSE*
Stores sequence of events
Automatic startup and initialization following power restoration
Device management using SNMP/web-server
Time synchronization using IEC60870/DNP3/SNTP
Reliability
KEMA Certified IEC 61850 Server
Supports temperature range from -40C to +85C
Security
NERC-CIP security compliant
IEC62351 support
SSL VPN with AES, DES or 3DES encryption
Scalability & Upgradability
Full modem serial port for modem plug-in
Add-on Ethernet / Fibre Optic port available
Option for adding customer specific applications
* Selected hardware
Product Variants
SYNC 200 series comes in numerous models for varying performance and dimension requirements.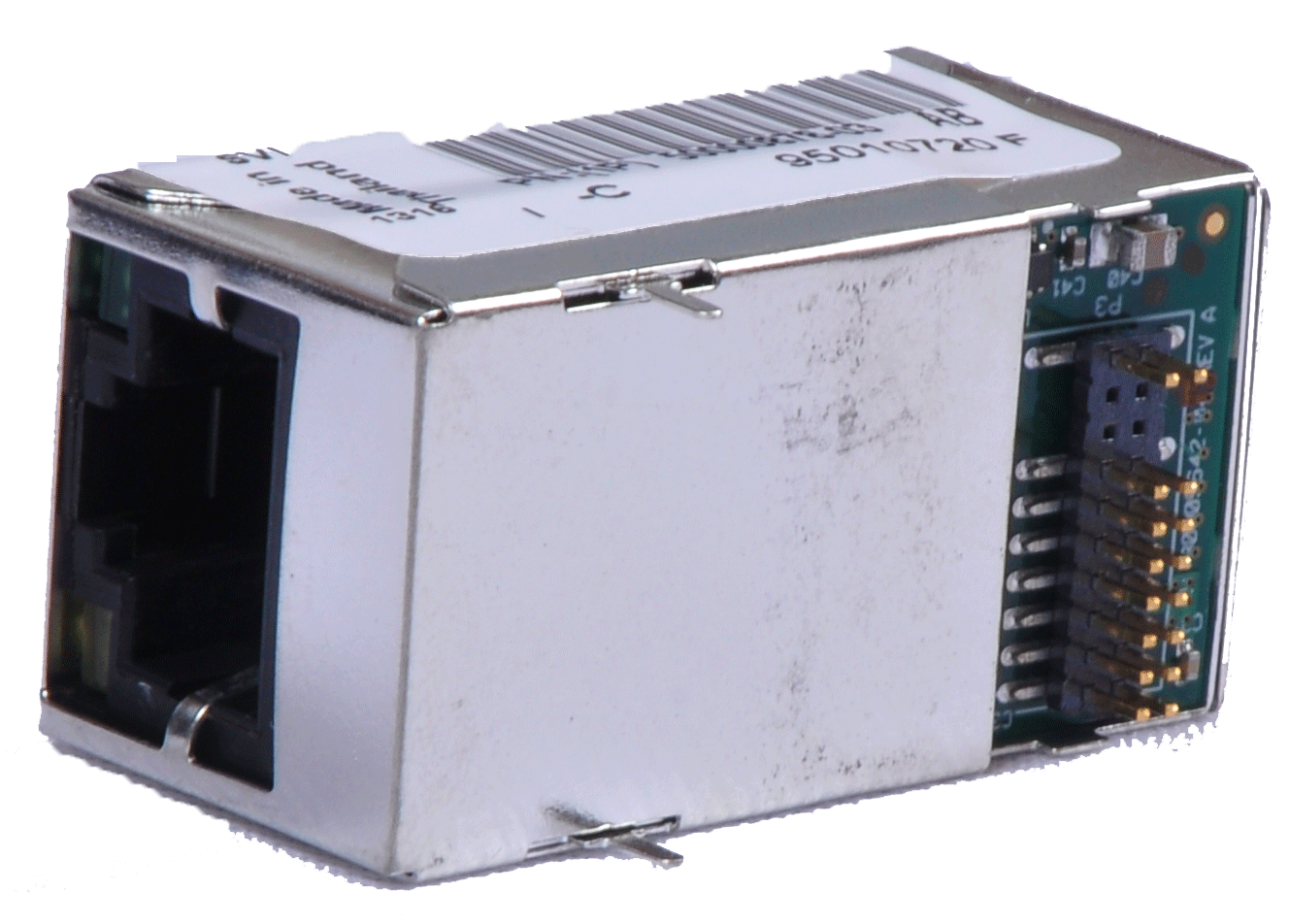 SYNC 211: One serial and one Ethernet port for low scale protocol conversion; very small form factor.
It is an ultra-compact embedded module with an ARM7 based processor, one 10/100 Base T Ethernet network interface, and one TTL serial interface. SYNC 211 enables the future-proofing of legacy devices at an attractive price-point. Dimensions: 36.7 mm x 19.05 mm x 21.69 mm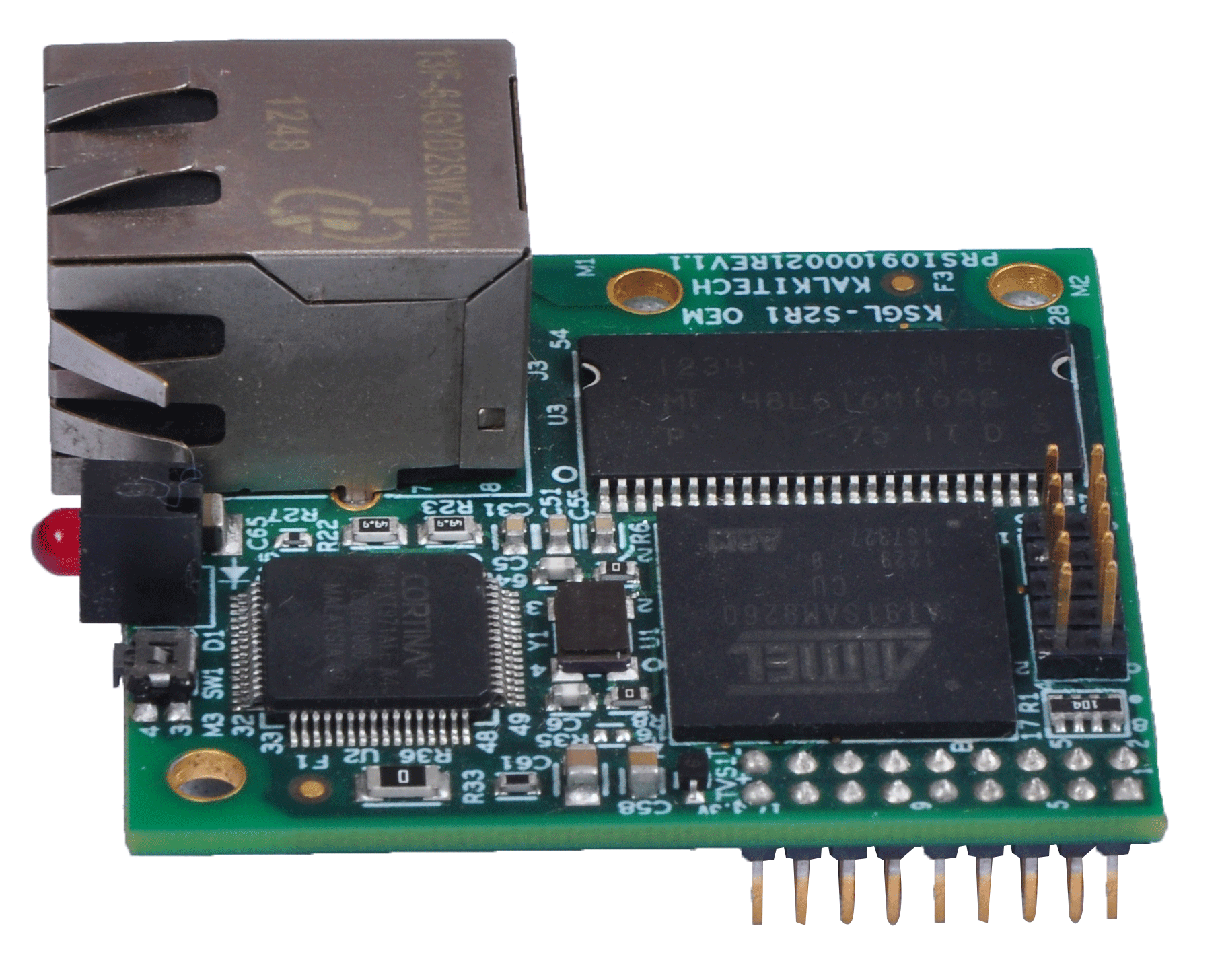 SYNC 221: Two serial ports and one Ethernet port for medium/high duty protocol conversion like IEC 61850; small form factor.
SYNC 221 is the latest model in Kalkitech's SYNC 200 series and is designed for the flexibility and performance requirements of small but powerful devices like RTUs and Relays. It has two TTL serial interfaces as well as one 10/100 Base T Ethernet interface. Dimensions: 45mm x 40mm x 21.6mm.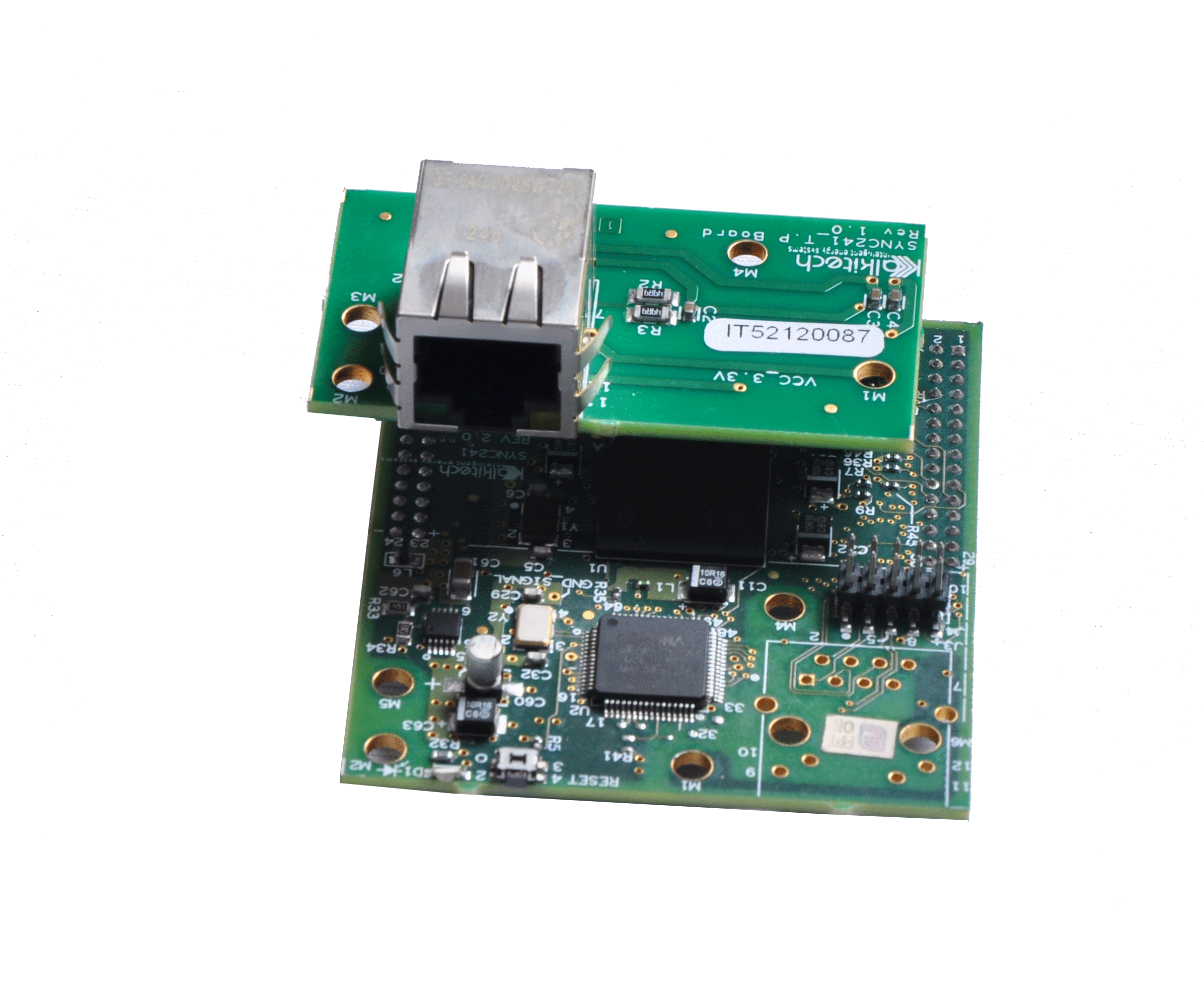 SYNC 241: Four serial ports and one Ethernet port (Fibre Optic port version also available) for medium/high duty protocol conversion like IEC 61850; medium form factor.
SYNC 241 now has two variants: SYNC 241 CU and SYNC 2141 FO. The SYNC 241 CU provides the same functionality as the SYNC 241 and differs only in size. Dimensions: 55.4mm x 62.2mm x 36mm mm. The SYNC 241 FO, on the other hand, will have one fiber optic (FO) interface instead of the one 10/100 Base T network interface. Dimensions: 55.4mm x 62.2mm x 32mm.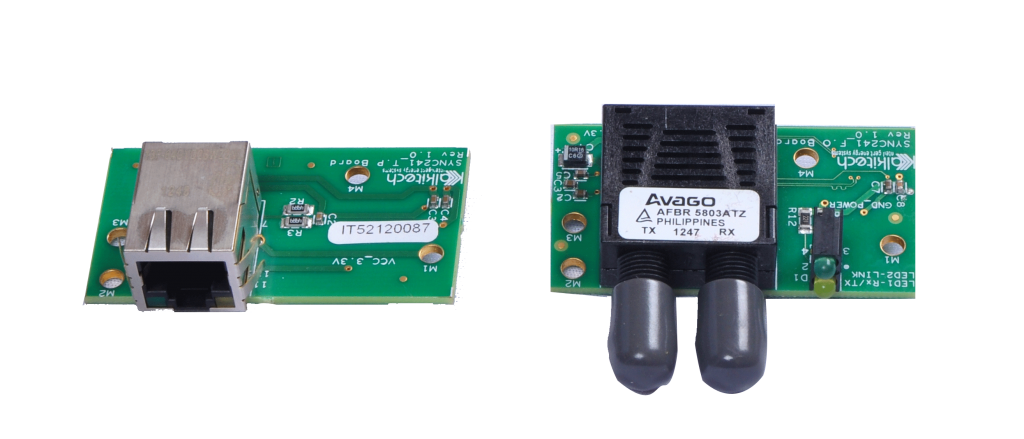 Applications
SYNC 200 upgrade cards have been deployed in numerous IEDs across the world. Their performance capability, versatility, and form factor make SYNC 200 modules ideal for a variety of applications which require protocol conversion to latest protocols like IEC 61850/ DLMS/ DNP3.0 inside the vendor device. SYNC 200 is powerful enough to handle more than just one-to-one protocol conversion and hence, another key application is for multiple protocol support (e.g. IEC61850+DNP3.0+IEC60870-103) in the vendor device.
SYNC 200 modules have been used in:
Alarm Annunciators
Capacitor Banks
Circuit Breakers
Data Loggers
Energy Meters
Industrial Ethernet Switches
Intelligent Electronic Devices (IEDs)
Programmable Logic Controllers (PLCs)
Protection Relays
Remote Terminal Units (RTUs)
Switchgears
Transformer Monitoring Systems
Some of the SYNC 200 protocol upgrade option examples are:
Modbus RTU to IEC 61850
Modbus RTU to DLMS COSEM
Modbus RTU to DNP3
Modbus RTU to IEC 60870-5-104
DNP3 to IEC 61850
DNP3 to IEC 60870-5-104
DLMS COSEM to Modbus RTU / TCP
DLMS COSE to IEC 61850
IEC 60870-5-101 to IEC 61850
IEC 60870-5-103 to IEC 61850
Interfacing
SYNC 200 modules can be plugged internally into the device using TTL interface of the module while the Ethernet / Fibre Optic port on the SYNC 200 modules is used as the final output from the combined device.
There are other interfacing options available including I2C interface for internal connection. TTL/RS232 or TTL/RS485 conversion (using external circuitry) can also be implemented on the module, to make the protocol available for the external communication. This conversion is required only if the protocol demanded is a serial protocol.
The complete integration process, including board design and testing, can be completed within a span of 2-3 weeks. Kalkitech provides a versatile SYNC 205 Starter Kit containing Development Board, SYNC 200 modules, design details and User Guide, along with free technical support of 20 hours.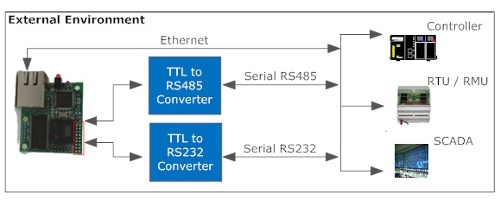 Development Kit
Kalkitech has built a Developer Kit that will help test and integrate Kalkitech's SYNC 200 modules into the vendor end devices quickly and with minimal costs. The developer kit comes with the necessary developer board and sample embedded modules hardware, configuration tools and documentation. In addition, up to 20 hours of free Technical Support is available.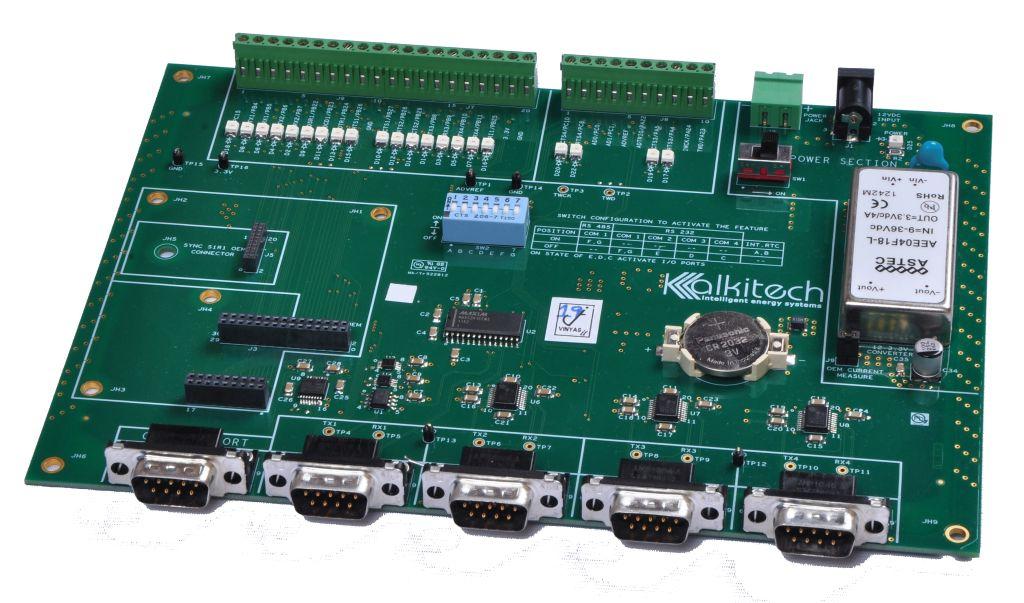 SYNC 205 Development board provides a development platform for the SYNC 200 products and projects all the features of a SYNC 200 module for testing and integration. The developer can use the board for customized development of the SYNC 200 products and to explore the possibility of integrating the device into the system. This development platform provides developers with opportunities to implement and test solutions and also to verify the various operations work as intended.
The main features of the development board are:
Four serial RS232 ports with full modem on COM 1 and Console port
RS485 support
On-Board RTC
Wide power input range
GPIO expansion with LED indication
Sockets for various SYNC 200 modules
The development board includes the following:
SYNC 200 Development Board
SYNC 200 series Quick Start Guide
SYNC 211/ 221/ 241 – 2 numbers
Easy Connect Configuration Tool (CD)
RS232 DB9 Female to DB9 Female Cross
User Manuals for Development board
Cable – 2 numbers
Ethernet Cross Cable -1 number
Power Adapter 12V