Description
Product Information
FlexOpto is a bidirectional media converter which transmits electrical FlexRay, CAN or LIN signals via optical fibre. For an independent use, a high capacity lithium ion battery allows an operation up to 40 h without charging. The PCB design is optimized for EMC tests, emits very little noise and is unsusceptible against high levels of electromagnetic noise.

Advantages
Complete EMC optimized design with best-in-class low emissions

Best-in-class unsusceptible against noise

Integrated battery, up to 40 h operation

Supports WUP and symbols (CAS, MTS, ...)

Integrated, switchable network termination with power resistors
Application Areas
EMC Testing
FlexOpto has a PCB that is optimized for EMC testing. Operating on internal, a rechargeable lithium ion battery, it can transmit the signals from a DUT into an EMC chamber to the FlexOpto outside via optical fibre. Using an interface e.g. a FlexCard family interface, the communication can be monitored.
​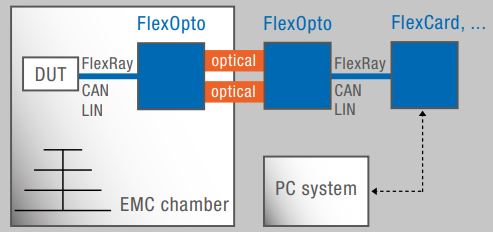 Galvanic Isolation
FlexOpto can be used as galvanic isolation for FlexRay, CAN or LIN networks. Areas with high voltage can be isolated and groundshifts can be eliminated. Measurement equipment can be protected and the operator is safe because of the non conducting connection.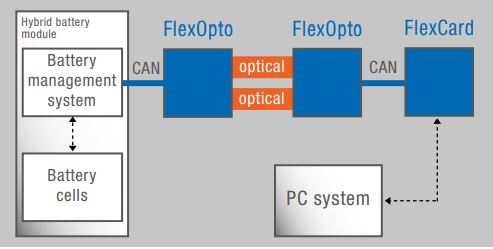 Range Extender
FlexOpto works as a range extender for FlexRay, CAN or LIN networks. It avoids reflexions because of unterminated tabs or distortion, e.g. caused by magnetic fields from electric motors etc. Because of the optical connection, the signal is not affected.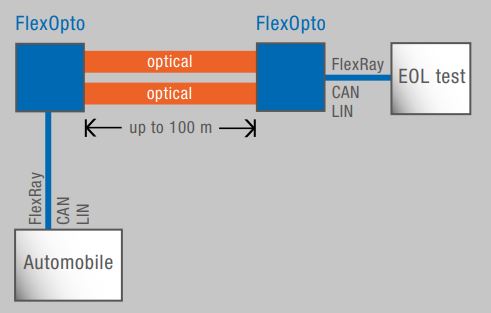 | Timings | FlexOpto |
| --- | --- |
| FlexRay pulsewidth distortion | ±2 ns at 10 m HCS |
| FlexRay bit delay | 195 ns at 10 m HCS |
| FlexRay TSS truncation | 145 ns at 10 m HCS |
| CAN pulsewidth distortion | ±4 ns at 10 m HCS |
| CAN delay | 275 ns at 10 m HCS |
| LIN pulsewidth distortion | ±4 µs at 10 m HCS |
| LIN delay | 12 µs at 10 m HCS |
Features
Application Areas
EMC Testing
✔
Galvanic Isolation
✔
Range Extender
✔
EMC Characteristics
Emissions
(CISPR 25: 2008-03 ALSE-method)
Class 5

Unsusceptible Against Noise

(ISO 11452-2:2004-11)

min. 270 V/m

Battery supply

Battery Operation
up to 40 h
Connectivity
FlexRay
Binder 712, 4 Pin
CAN
Binder 712, 4 Pin
LIN
Binder 712, 4 Pin
Optical Fibre

850 nm, ST connector, 1x Rx, 1x Tx

(SMA connector available on request)

Supply
Binder 712, 4 Pin
Switchable Termination
✔
Device
Housing
145 x 125 x 35 mm³
Supply Voltage
Li-Ion charger 8,4 V
Temperature Range

Operating mode: 0°C – 40°C

Charging: 10°C – 30°C

Storage (short-term): -20°C – 60°C

Scope of Delivery
Device
2x
Documentation in PDF Format
✔
Cables

2x Li-Ion charger

1x fibre optic cable

1x bus cable

1x bus connector set

1x gender changer
Order Information FlexOpto
Product
Description
FlexOpto
Media converter for FlexRay, CAN-HS or LIN into
optical signals and vice versa.
2Cell Li Ion Charger
Specific charger for FlexOpto

FlexOpto

bus cable (2 m)

4 pole Binder male to 9 pole D-Sub female
connector

Fibre Optic

cable (10 m)

Fibre optic cable