Fuel Cells
Motorized vehicles (cars, trucks) produce large quantities of CO2. Despite considerable advancements, the internal combustion engine still has very high CO2 emission levels. It is therefore no surprise that engineers are seeking alternative drive concepts here. In this training system students get to know and understand this fascinating technology. One interesting drive concept involves the use of electrical drive motors in conjunction with a fuel cell.
List of Articles
UniTrain: Fuel Cells in Motor Vehicles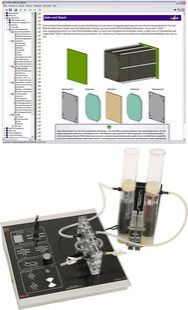 Many experts from the automotive industry and vehicle development see fuel cells as a possible solution to the fact that the range of current electric vehicles remains too limited. As a cleaner alternative to electric/petrol hybrids with their own internal combustion engine, fuel cells may be in a position to supply electrical energy on the basis of two inexpensive and readily available substances. However, for automotive mechatronics engineers, fuel cells represent a new and hitherto untried technology, for which maintenance and diagnostics will need to be learned. This course provides the necessary knowledge and understanding of the way that such fuel cells work and how they are put together. In addition, numerous experiments and measurements on an authentic fuel cell enable trainees to gain the practical experience and diagnostic skills required for dealing with this technology.
Includes:
Experiment panel with:
PEM double fuel cell
PEM electrolyser with scaled gas storage device
Power supply 2V/ 2.5A
Consumers
Hoses, hose clamps
Variable load for characteristic recording
Labsoft browser and course software
Course content:
Functional and operating principle of fuel cells
Recording the characteristics of a fuel cell
Learn to explain the electrochemical processes of electrolysis (Faraday's first and second law)
Faraday's laws and determining the energy efficiency of a fuel cell
Series and parallel configuration of fuel cells
Considerations regarding the power of fuel cells
Functional and operating principles of electrolysers
Recording the VI characteristic of the electrolyser
Faraday's laws and determining the energy efficiency of an electrolyser
Course duration approx. 4.5 h
Additionally Required
The UniTrain-I system is a computer-based training and experimentation system for vocational and further training and education in the areas of basic and advanced electrical engineering and electronics. Its multimedia courses combine cognitive and hands-on (haptic) training units into a comprehensive unified concept, specifically enabling students to acquire skills in the handling of equipment. Starting with basic courses and advancing to cover a huge variety of electrical engineering and electronics topics, a wide range of multimedia courses is available for study in school or in professional and advanced training courses. The UniTrain-I system is completely self-contained and can be used anywhere at any time. The multimedia learning environment the system provides high degrees of motivation, and maximum learning effectiveness in laboratories, at work or at home. It thus becomes a guarantor for effective and efficient study. Access to the multimedia courses and control of virtual instruments and experiment hardware is provided by LabSoft, the system's open experiment platform. The courses teach the theoretical building blocks and provide experiments to be carried out using the course-specific experiment hardware. The intelligent measurement interface supplies the analog and digital measuring and control I/O and represents, in combination with the system's virtual instruments, a high quality item of laboratory equipment. In addition, students' progress can be monitored and electronically documented on the basis of fault finding experiments with faults simulated by the hardware as well as tests of knowledge. The electrical and electronic circuits needed for the experiments are connected to the system with the aid of an Experimenter module.
UniTrain Interface with Virtual Instruments (Basic VI)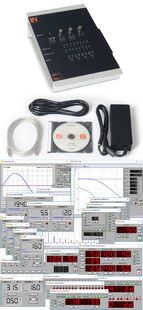 The UniTrain Interface is the central unit of the UniTrain system. It incorporates all inputs and outputs, switches, power and signal sources and measurement circuitry needed to perform experiments. The Interface is controlled via the connected PC.
Equipment:
32-bit processor with storage memory for measurements
USB interfaces, transfer rate 12 Mbits/s
WLAN/WiFi interface, 2.4 GHz, IEEE 802.11 b/g/n
Simultaneous connection of any number of Experimenters via serial bus system
High-quality designer casing with aluminium feet and surface-hardened Plexiglas front panel
Suitable for accommodating in training panel frames for DIN A4 training panels
Designed for connection of 2-mm safety measuring leads
Multi-coloured LEDs for displaying status
Adjustable analog output, +/-10 V, 0.2 A, DC – 5 MHz, via BNC and 2-mm sockets
4 Analog differential amplifier inputs with 10 MHz band width, safe for voltages up to 100 V, sampling rate 100 mega samples, 9 measuring ranges, memory depth 4 x 8 k x 10 bits, inputs via BNC (2 inputs) or 2-mm sockets (4 inputs)
2 Analog inputs for current measurement, overcurrent-protected up to 5 A, sampling rate 250 kilo samples, 2 measuring ranges, resolution 12 bits, connection via 2-mm sockets
3 variable analog outputs +/- 20V, 1 A, DC-150 Hz (requires CO4203-2B)
16-bit digital signal output, of which 8 bits are accessed via 2-mm sockets, TTL/CMOS, clock frequency 0 – 100 kHz, electric strength +/- 15 V
16-bit digital signal input, of which 8 bits are accessed via 2-mm sockets, memory depth 16 bit x 2 k, TTL/CMOS, sampling rate 0 – 100 kHz, electric strength +/- 15 V,
8 Relays, 24 V DC/1 A, of which 4 are accessed via 2-mm sockets
Dimensions: 29.6 x 19 x 8.6 cm
External power supply with wide range input 100-264 V, 47-63 Hz, output 24 V / 5 A
Weight (including power supply): 2.1 kg
Virtual instruments (meters and sources):
2 x Voltmeter VIs, 2 x Ammeter VIs: AC, DC, 9 ranges, 100 mV to 50 V, true RMS, AV
1 x Power meter, 9 ranges, 100 mV to 50 V
1 x VI with 8 relays, 1 x Multimeter VI: multimeter display (optional LM2330, LM2331 or LM2322) in LabSoft
1 x 2-channel ammeter VI: AC, DC, 2 ranges, 300 mA and 3 A, TrueRMS, AV
1 x 2-channel voltmeter VI: AC, DC, 9 ranges, 100 mV to 50 V, TrueRMS, AV
1 2-/4-channel oscilloscope: band width 10 MHz, 25 time ranges, 100 ns/div to 10 s/div, 9 ranges 20 mV/div to 10 V/div, trigger and pre-trigger, XY and XT modes, cursor function, addition and multiplication function for 2 channels
1 x VI Spectrum Analyzer: 9 voltage ranges 100 mV to 50 V, input frequency range 3 Hz to 1 MHz, time domain display
1 X VI Bode-Plotter: 9 voltage ranges 100 mV to 50 V, frequency range 1 Hz - 5MHz, time domain display and locus diagram
1 x Adjustable DC voltage VI 0 - 10 V
1 x Function generator VI: 0.5 Hz - 5 MHz, 0 - 10 V, sine, square, triangular,
1 x Arbitrary generator VI, 1 x Pulse generator VI
1 x VI with 16 digital outputs, 1 x VI with 16 x digital inputs, 1 x VI with 16 digital input/outputs. Display modes: binary, hex, decimal and octal numerals
1 x Three-phase power supply VI, 0 - 150 Hz, 0 - 14 Vrms, 2 A (requires CO4203-2B)
1 x Adjustable DC power supply VI, 3 x (-20 V - +20 V), 2 A (requires CO4203-2B)
1 x Three-phase power supply VI with additional phase-shift and clock rate adjustment (requires CO4203-2B)
Includes:
Interface
Power supply
Power lead
USB cable
CD with basic software
Operating manual
System requirements:
Personal computer with Windows Vista, Windows 7, Windows 8, Windows 8.1, Windows 10 (32 or 64 bit)
CD-ROM drive for installing software
USB port for connection to Interface
UniTrain Measurement Accessories, Shunts and Connection Cables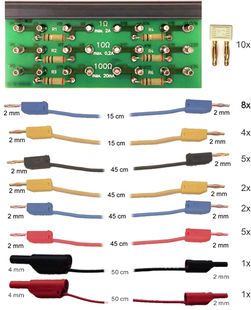 Shunt resistors on a PCB, for current measurement using the analog inputs of the UniTrain system.
6 Shunt resistors: 2 x 1 ohm, 2 x 10 ohm, 2 x 100 ohm
Screen print of symbols for identifying resistors, the voltage taps and current inputs
24 x 2-mm sockets
Dimensions: 100 x 40 mm
Set of connection cables 2 mm (28 pcs) for UniTrain consisting of:
8 x connection leads 2 mm, 15 cm, blue
4 x connection leads 2 mm, 15 cm, yellow
5 x connection leads 2 mm, 45 cm, black
2 x connection leads 2 mm, 45 cm, yellow
5 x connection leads 2 mm, 45 cm, red
2 x connection leads 2 mm, 45 cm, blue
1 x safety adapter lead 4 mm to 2mm, 50 cm, black
1 x safety adapter lead 4 mm to 2mm, 50 cm, red
10 x 2-mm connector plugs / Plug spacing 5 mm, white
Additionally Recommended
UniTrain Storage Case for Experiment Board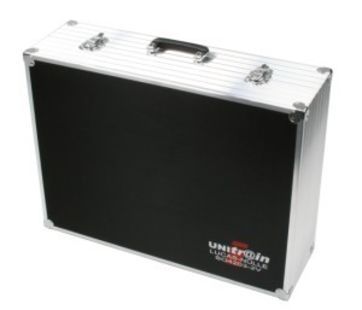 Sturdy aluminium case with moulded foam block to accommodate an experiment board
Capable of accommodating 1 experiment board and smaller accessories
Lockable padlock; stable padlock hinge
Colours: aluminium, black, chrome
Dimensions: 600 x 450 x 175 mm
Weight: 2.5 kg