DC/ DC Step-Down Converter
The course "Step Up / Step Down Converter" deals with how electric vehicles can increase high voltage battery voltage to the sometimes much higher voltages required for the electric motor and also shows how the high voltage can be in turn reduced to low voltage to run the 12 volt battery and run the vehicle's electrical and electronics system.

List of Articles
UniTrain: DC-DC Step-Down Converters in Hybrid and all Electric Vehicles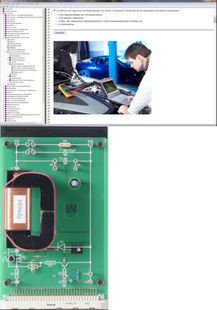 For inverters in electric and hybrid vehicles, as well as many other applied circuits, DC voltages of multiple levels are required. This course investigates ways of converting from one DC voltage to another.
Includes
Experiment card (step-down-converter) with circuitry for experiments in Eurocard format
Labsoft browser, course software and additional virtual instruments
Storage case
Jumpers
Extra capacitor
Two coils with iron core
Components on experiment card:
Push-buttons
Electronic circuitry for a DC-DC converter
Electrical controller for electronics with indicator light
Sockets for a coil
Sockets for extra capacitor
Sockets for jumpers to connect components
Measurement sockets
Training contents
Fundamental of DC-DC converters
Compiling repair shop orders
Diagnostic functions

Reading out fault memory with a diagnostic tester
Classifying faults in vehicle systems

Function and design of a pilot line

Design of electric circuit
Principle of operation
Control
Circuit variants

Repair methods and conversations with customers

Selection of repair actions as specified by manufacturers
Working with spare part numbers

Investigation using measuring instruments
Course duration 6 hours approx.
Operating voltage:
Input voltage 15 V DC
Output voltage 0-15 V DC
Dimensions/Weight:
100 x 170 mm (width x height)
0.8 kg
Additionally Recommended
Multi13S Digital Multimeter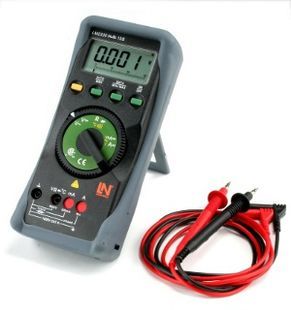 Universal precision lab multimeter and temperature meter with IR interface for high-quality, universal measurement and testing in educational settings, power plants, process control installations etc.
3¾-digit multimeter; resolution: ±3,100 digits
Measurement classification CATII-1000 V
Can be connected to UniTrain system via IR interface
Voltage and current measuring ranges: 30 mV-1000 V DC, 3 V-1000 V AC; 3 mA-16 A DC; 30 mA-10 A AC
Resistance ranges: 30 ohm-30 Mohm
Special functions: °C for temperature measurements using PT100/1000 thermocouple (optional accessory)
Continuity and diode testing
Automatic range selection and battery shut-off, min./max. and data hold function
Safety fuse for current measurement range up to 300 mA
Protection against high currents in the mA range for nominal voltage of 1000 V
Display with bar chart and backlighting
Includes protective sleeve, measuring leads, 1 x spare fuse, 9V battery, calibration certificate