CarTrain "Diagnosis and Maintenance of a High Voltage Battery"
Unceasing advances in the development of hybrid and all-electric vehicle technology continue to pose new challenges for the automotive sector. The high-voltage (HV) battery has long been considered to be a "black box". But now, more and more manufacturers are also venturing into repairing HV batteries.
This involves lots of challenges and requires a special understanding of "overall systems" in order for proper work to be possible. Our training system focuses on the digitally networked CAN-bus battery management system in a traction battery and on the corresponding components.
List of Articles
CarTrain "Diagnosis and Maintenance of a High Voltage Battery"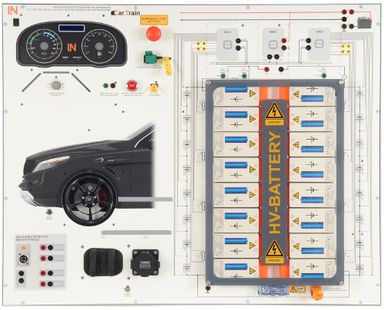 Unceasing advances in the development of hybrid and all-electric vehicle technology continue to pose new challenges for the automotive sector. The high-voltage (HV) battery has long been considered to be a "black box". But now, more and more manufacturers are also venturing into repairing HV batteries.
This involves lots of challenges and requires a special understanding of "overall systems" in order for proper work to be possible. Our training system focuses on the digitally networked CAN-bus battery management system in a traction battery and on the corresponding components.
Particularly important here were the activities involved in the measuring and operational testing of HV components carrying a voltage. Practical and live exercises involving the measurement and diagnosis of battery cells are carried out. The HV battery is designed such that it can be taken apart to replace individual cells and sensors. This is how the trainee develops skills and practices diagnosing and maintaining the HV battery.
Scope of supply:
CarTrain CO3221-6S "Diagnostics and maintenance of a high-voltage battery"
Interactive course on CD-ROM with Labsoft browser, course software and additional virtual instruments
Integrated diagnostic software
Digital measuring instruments:
Digitally networked measurement capacity
4-channel oscilloscope
Voltmeter
Ammeter
Double voltage meter
Power meter
Training contents:
Understand customer complaints, carry out operational testing and determine diagnostics approach
Read out fault memory
Evaluate work safety
Check effectiveness of electrical safety measures on the high-voltage system
Replace high-voltage components
Become familiar with location of components in the motor vehicle
Determine faults and their causes with the aid of circuit diagrams and function plans
Draft an inspection protocol and document results
Understand measures taken to avoid hazards caused by voltage isolation faults
Learn about data communication between control units
Recognise repair needs and carry out repair options
Determine diagnostics and repair options based on a customer's job order
Determine system operating states with the aid of the diagnostics systems, compare these to information in databases and evaluate results
Measuring and testing systems

Determine the desired data
Select measurement procedure and measuring instruments
Document the measurement results

Determine the measurement results, compare these to the desired data and evaluate
Measure, check and evaluate signals at components and systems
Measure, test and evaluate electrical connections
Test high-voltage systems with diagnostics equipment, in particular perform measurements on isolation, equipotential bonding and voltage drops
Analyze and evaluate messages in data bus systems
Learn how battery cells are designed and function in the HV battery
Learn how temperature sensors are designed and function in the HV battery
Design and function of HV charging systems
Advantages and disadvantages of individual HV charging systems
Options to practically measure power consumption for different driving profiles
Measuring voltage characteristics in HV batteries for different charging and discharging cycles
How sensors and actuators interact
IPO principle
Open-loop control processes in the motor vehicle
Closed-loop control processes in the motor vehicle
Differences between open- and closed-loop processes
Components of the training-panel system:
Mains power switch
Emergency-stop safety switch
Ignition switch
Control unit BMS 1
Control unit BMS 2
Central control unit for BMS1 and BMS2
Pre-charging and main relay with self-diagnostic function
16 battery modules, interchangeable, digitally encoded, including fault simulation circuits
Active battery cooling
8 battery-temperature sensors, interchangeable
Pilot line with diagnostics function
Hall-effect current sensor for non-contact measurement of the charging and discharging processes
Real battery cell balancing
Selectable driving profile

Incline
Level
Coasting
Gradients with recuperation
Electrical braking with recuperation

Visualised display of selected driving profile
Low-voltage service disconnect
High-voltage service disconnect
HV protection for emergency services
Combination instruments with

Power meter – power display
Speed indicator
Battery charge indicator
HV-ready and EPC warning light
Charging station control light
Warning light for power limitation

Rotating drive gear
Bidirectional power flow indicator between drive gear and HV battery
Type 1 charging plug for AC charging
CCS-type 2 rapid charging plug for DC and AC charging
Charge buttons for controlling charge initiation
Power flow visualisation from the charging plug to the HV battery
2-mm and 4-mm safety measurement sockets
Removable complete battery cover
Contact protection guards for battery cell terminals
Digitally networked CAN-bus battery management system with measurement interface
Test sockets for temperature sensors
Test sockets for CAN-bus
Test sockets for HV
Test socket battery module 1
Test socket battery module 2
Test socket 12V
Terminals for measuring equipotential bonding
Terminal designations according to DIN 72552
46 fault simulation options
USB connection socket
Supply voltage:
Operating voltage:
Dimensions:
Additionally Required
Cable Set for "CarTrain Diagnosis and Maintenance of a High Voltage Battery"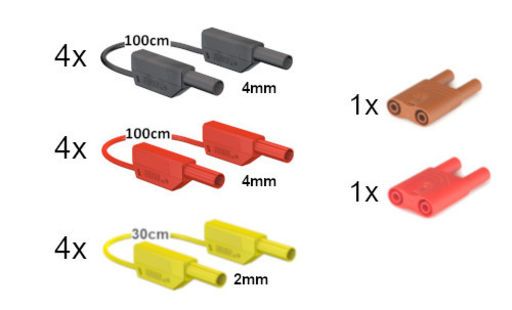 This set of 4-mm connecting leads has been specially assembled for the "CarTrain: Diagnostic and Repair of High Voltage Batteries" training system. To this end, the individual colours and the lengths of the leads are designed to support the educational aim of the training system, making it easier to wire up the sensors, actuators and power supply. Each of the measurement leads and jumpers features a special, protected design, whereby it is not possible to make contact with any current-carrying components. To make it possible to carry out measurements without difficulty, all the connector plugs include a tap socket. For each of the leads and jumpers included in the set, there is also a spare. In detail, the following components are included in the set:
Connecting leads
4x 2mm safety measurement leads (yellow, 30 cm)
Measurement leads
4 x 4mm Safety measurement leads (red, 100 cm)
4 x 4mm Safety measurement leads (black, 100 cm)
1 x 4mm Connector plugs (red)
1 x 4mm Connector plugs (brown)
Personal Protective Equipment (PPE) for Diagnostic Work on High-Voltage Vehicles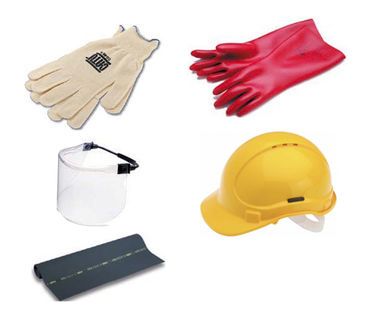 This set provides you with the optimum safety equipment for any type of work on hybrid or electric vehicles. The fact that all these products have been developed and manufactured in Germany means that they meet the highest safety standards and comply with all essential German standards.
The set comprises the following items:
1000 V electricians' safety helmet, "yellow" (DIN EN 397)
1000 V face protection screen (DIN EN 166)
1000 V electrical safety gloves, class 0
Fabric liner gloves
1000 V insulating mat, 1000 x 1000 x 4 mm
1000 V Electricians' safety helmet, "yellow" (DIN EN 397)
Light and modern protective helmet conforming to DIN EN 397, made of HDPE (high-density polyethylene) with air holes, electrically insulating for up to 440 V AC or 1000 V in conjunction with a face screen, extension to protect the neck, with hygienic terry sweat band, rain channel and slits in the side for attaching ear and face protection, ratchet head strap, 8-hole interior strap adjustment, for hat sizes 50-66 cm, 310 g. Supplied in signal yellow.
1000 V Face protection screen (DIN EN 166)
Compliant with DIN EN 166 for combination with Electricians' safety helmet, full protection against flame arcs, short-circuit arc flashovers, liquid splashes and other damage for the whole face including ears, colourless, transparent, lifting protective screen.
1000 V electrical safety gloves, class 0
Compliant with DIN EN 60903, with test stamp for work in voltage ranges up to 1000 V, made of natural latex, anatomically shaped, optimum flexibility.
Fabric liner gloves
Glove liners for absorbing skin moisture and for better ventilation when wearing electrical safety gloves, made of 100% cotton, unbleached and not dyed, elasticated, especially good for protecting sensitive skin.
1000 V insulating mat, 1000 x 1000 x 4 mm
Protective mats for electrical switching rooms, tested in accordance with DIN EN 61111, resistant against weather, ozone, light, acid, oil and fire (UL 94 V-0). Mats 3 mm thick possess a dielectric strength compliant with voltage protection class 0 (1000 V), made of grey polymer (Shore A hardness 65° approx.), rupture strength > 10 N/mm , elongation at breaking point > 600%, high-quality rough surface (ribbed) to prevent slipping, abrasive wear < 300 mm, temperature-resistant from –30 °C to +70 °C. Mats are free of nitrosamines and polycyclic aromatic hydrocarbons in compliance with EU 1272/2013.
Two-Pole Voltage Tester, 12-690V/AC/DC CAT III 690V, CAT IV 600V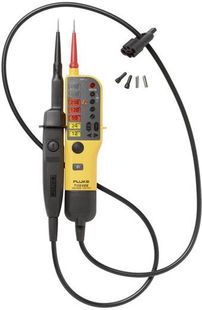 This high-quality voltage tester provides the kind of fast test results you need in your daily work and includes large user-friendly buttons, background illumination and intuitive acoustic signalling and indicator display suitable for any working situation. The device has a robust and high-quality design for a long working life. This includes a sturdy, injection-moulded plastic housing, an extra-thick measurement lead including wear indicator, a solid battery casing as well as a tightly fitting safety guard for the measurement probe tips. It also complies with the latest European safety regulations according to EN 61243-3: 2010, which is the current and valid standard for this kind of testing device.
Furthermore, the voltage tester also includes a host of varied and simply understood signalling with four separate voltage indicators: Clear representation of the status and measurement values via LEDs, measurement value indication on the well-lit digital display, continuity testing with acoustic signal or a vibration generator which provides a tactile feedback signal (vibrations generator in T110, T130, and T150). Depending on the situation you can select the most effective method available. The battery display keeps you informed in good time prior to the voltage level dropping below the permitted value. But the testing device can also detect the existence of voltage (>50 V AC, >120 V DC) even without batteries – an important safety feature. However, you should still always use the voltage tester with fully operational batteries. In rare cases, however, it could happen that the batteries fail and then this function is extremely useful to determine the presence of a voltage.
Technical data
Voltage measurement range: 12 - 690 V/AC/DC
Frequency range: DC/40 - 400 Hz
Protection class: IP64
Measurement category: CAT III 690 V, CAT IV 600 V
Power supply: 2 micro cells (1.5 V IEC LR03 AAA)
Calibration according to: ISO / DAkkS
Insulation and Electrical Resistance Meter (Automotive)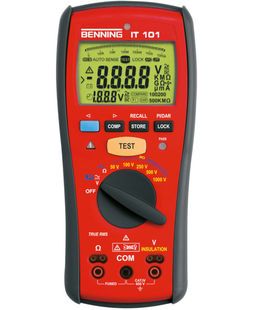 This meter for testing insulation and measuring resistance allows for standard-conformant testing of electrical systems, such as testing of insulation resistance for high-voltage systems in hybrid or electric vehicles. The meter has the following attributes to make it the best instrument for use with high voltages such as those present in the aforementioned vehicles. Safe and comfortable measurement of insulation resistance is made possible in particular by the switchable measuring probes.
Technical features
Measurement of insulation resistance with test voltages of 50 V, 100 V, 250 V, 500 V and 1000 V (VDE 0413-2)
Determination of polarisation index (PI) and dielectric absorption ratio (DAR)
Selectable limits for ISO measurements, green LED for successful tests, red LED for test/external voltages
Resistance measurement using 200 mA test current for testing protective earth connections (VDE 0413-4) complete with zero calibration for measurement leads.
Switchable test probes for initiation of test procedures
Internal memory for 100 measurement values per measurement function
True RMS voltage measurement with low-pass filter
Includes pouch, switchable test probes
Additionally Recommended
Safety Zone for CarTrain (Hybrid and Electric Vehicles)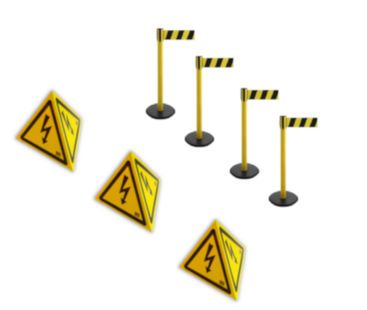 This set gives you the option of setting up a complete safety zone for working with high-voltage hybrid and electric vehicles or their high-voltage batteries. Four securely free-standing poles with cordon straps allow you to set up a safety zone which meets the highest safety demands. Such a safety zone needs to be set up to secure high-voltage vehicles or their HV components and to protect trainees in laboratories or repair shops. For any work on a high-voltage battery it is essential for the area to be cordoned off. Setting up a safety zone is therefore an essential aspect of any training.
The cordon straps require no maintenance, are resistant to tearing and do not sag. This guarantees the highest level of safety and durability. The three magnetic roof pylons can be simply attached to the roof of a vehicle without any tools. Everything in the set is a certified and tested safety product.
Charging Station for PEV and PHEV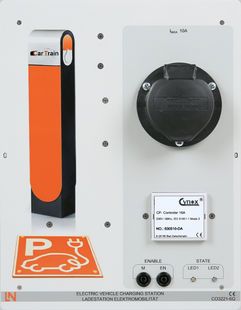 This charging station is extremely well suited to teaching trainees how HV battery charging works in a motor vehicle. The charging station can be used in conjunction with the CarTrain "Electromobility" or "Hybrid and all-electric vehicles" course as well as with the CarTrain course "Diagnostics and maintenance of a HV battery". The station may also be used without any restrictions on a real plug-in hybrid or electric vehicle. The charging station is equipped with a type-2 charge connector with a corresponding charge controller, which monitors the communication with the vehicle in terms of charge parameters according to IEC 61851. The charging station pole uses Mode 3 with a maximum charging current of 10 amperes.
Technical features
Charge socket type 2 for Mode 3 – charging mode
Safety cover for the charging socket
Actuator as part of the charging socket for locking or releasing the connector plug inside the socket
Contactor for disconnection of the charge terminal from the power grid
Max. charge current 10 A
Inputs and outputs: 4-mm safety sockets
Internal auxiliary voltage 24V DC / 1A
Voltage supply: 230V AC/50-60Hz
Type 2 - Charging Cable for HV Vehicles/CarTrain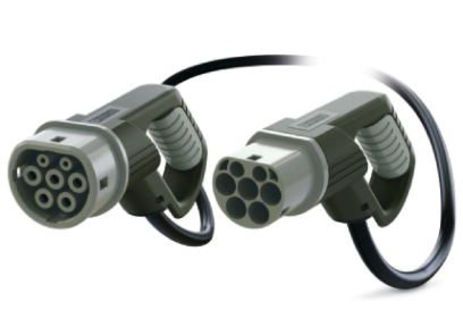 Mobile AC charging cable with Vehicle Connector and Infrastructure plug for charging electric vehicles (EV) with alternating current (AC), via type 2 Vehicle Inlets, compatible with type 2 Infrastructure Socket Outlets at charging stations for E-Mobility (EVSE). It is also possible to use this charging cable in combination with our CarTrains for hybrid and electric vehicle.
Standard Group Lock Box for Lockout/Tagout (with 1 Padlock)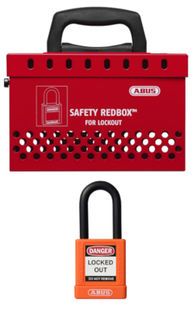 This lockable secure box gives you the option to keep keys and other items essential to security safe from unauthorised access. By using multiple padlocks (not included), it is even possible to arrange for multiple person protection. The box itself conforms to the highest standards of quality and can easily be moved thanks to its lightweight construction.
This box is ideal for preventing access to hybrid and electric vehicles in which the high-voltage system has been deactivated. Storing the key and the service/maintenance plug in here means that it is impossible for anyone to reactivate the HV system without authorisation.
AVL Ditest HV Safety 2000

When carrying out measurements on vehicles using high-voltage systems, special requirements are set with regard to safety for measurement and testing. This is why we provide a high-voltage measuring system "HV Safety 2000" with a USB interface. It has been specifically developed for automotive requirements. It allows for high-voltage safety requirements to be maintained in repair workshops and for measurement procedures to be documented.
The following functions are included:
Diagnostic and measurement procedures with built-in guidance
Initialisation and self-testing
Measurement confirming absence of power with thorough documentation
Measurement of insulation resistance as per SAE J1766
Voltmeter for up to 1000 V
Equipotential bonding conforms to UNECE R100
Measurement of resistance
Diode testing
Measurement of capacitance
Calibrated for reproducible accuracy
Power provided via USB port
Additionally required:
PC with up-to-date Windows operating system and two available USB-2 ports
Warning: The equipment is authorised exclusively for measurements on vehicles in conjunction with selected training systems, such as CarTrain CO3221-6K and CO3221-6D. Measurements on circuits connected directly to the mains are not permitted.
Accessories
SybaPro Mobile InsTrain/CarTrain Experiment Trolley, 1070x1350x700mm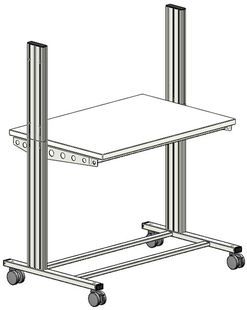 The mobile aluminium-profile experiment trolley is specially designed to accommodate components of the InsTrain and CarTrain system. All the Ins-Train and CarTrain system components can be safely mounted in structured fashion for lessons from the front of a class or for students' own practicals. For students, this provides a modern, educationally designed workplace with a worktop and connections for multimedia.
The mobile experiment stand is delivered in kit form and needs to be assembled by the customer
Aluminium profile with integrated grooves for attaching a wide variety of components (e.g. PC and monitor-holders)
4 steerable double casters, 2 with brakes
Worktop 1000 x 30 x 700 mm (WxHxD)
Table top made of highly compressed multilayered chipboard conforming to DIN EN 438-1, light grey, with double-sided 0.8 mm slightly textured laminate coating (Resopal) in compliance with DIN 16926
Table top bordered with solid, impact-resistant edging made of 3-mm thick plastic, colour RAL 7047
Coating and adhesives must be PVC-free
Power strip with 5-outlet sockets and power switch, lead and earthed plug
Height of table top 830 mm
Dimensions without CarTrain/InsTrain-System: 1070 x 1350 x 700 (WxHxD)
Dimensions with CarTrain/InsTrain-System: 1070 x 1650 x 700 (WxHxD)
Monitor Holder for Flat Screen Monitor of Weight up to 15kg / 33lbs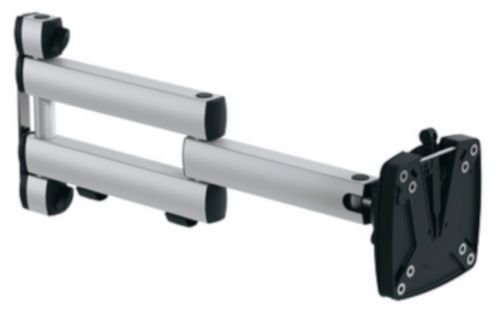 Pivoting monitor holder for attachment to aluminium profiles of furniture in the SybaPro range. Allows a monitor to be placed in the optimum position so that work and experiments are less tiring.
Pivoting arm with two-part joint
Quick-lock for adjustment to any height on extruded aluminium profile
VESA fastening 7.5 x 7.5cm
Includes VESA 75 (7.5x7.5) - VESA 100 (10x10) adapter
2 Cable clips
Adequate carrying capacity 15 kg / 33 lbs
TFT monitor can be turned parallel to the table edge
Separation can be adjusted to anywhere between 105 and 480 mm
Additionally included:
Cable management set for installing cables along the profiles of the aluminium lab system furniture in the SybaPro range, consisting of:
3 Cross cable blocks for front and rear grooves of aluminium profile
3 Cross cable blocks for side grooves of aluminium profile
12 Cable ties
4 Aluminium cover profiles for covering and enabling wires to be run along the grooves of an aluminium profile
Protection Cover for CarTrain/InsTrain Experiment Trolleys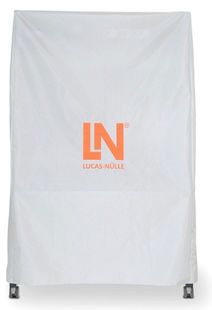 Dust cover for CarTrain/InsTrain experiment trolleys
For protecting equipment from dust and damp
For keeping equipment out of sight
Colour: matt dark grey with printed LN logo in orange)
Material: nylon fabric with polyurethane coating
High resistant to tearing, impregnated to be washable and waterproof
Under-Table Cabinet, Suspended, 4 Drawers, Central Locking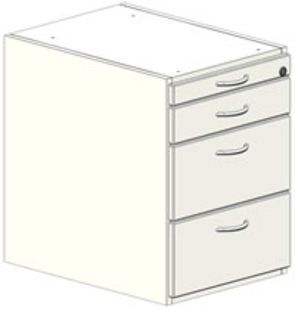 1 Utensil drawer
1 Drawer, 2 HU
2 Drawers, 4 HU
Usable width: 330mm, usable depth: 480 mm
Central locking
Metal drawers with surrounding row of slots
Body made of 19 mm-thick, highly-compressed, multi-layered fine chipboard with grade E1 plastic coating on both sides
Dimensions: 430 x 580 x 590 mm (WxDxH)
PC Holder for SybaPro Experiment Trolleys, Height/Width Adjustable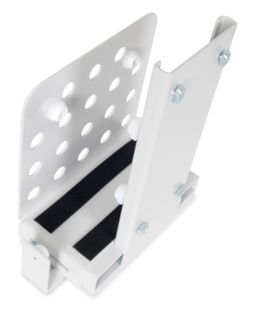 Shelf for desktop PC made of 2 mm sheet steel punched with holes, suitable for all furniture in the SybaPro aluminium profile range
Adjustable assembly height
for slim PCs, adjustable width (60 - 160 mm)
with fastening and rubber stopper
Can be mounted to left or right
Includes all equipment necessary for assembly (4 bolts and 4 tenon blocks)
Acid-resistant epoxy-resin powder coating, 80 µm thick approx., colour RAL7047