RS232/RS422/RS485 / Modbus - Converter
The RS232/RS422/RS485 / Modbus Converters allows to interface a Modbus device with one or more generic Serial devices (like printers, barcode scanners, balance and so on).
The converter is bi-directional and allows to read the data from serial side and write the commands if necessary.
The serial messages and the commands to send will be completely configurable from Modbus side and it will be possible the interface with all the serial devices not-based on standard serial protocol.
Modbus protocol can be over serial (Modbus RTU) or over Ethernet (Modbus TCP) in relation to the order code.
There are also two differnts order codes in relation of the type of the serial ports:
RS232/RS485:
HD67501-A1: RS232/RS485 / Modbus - Converter
HD67521-A1: RS232/RS485 / Modbus TCP - Converter
RS232/RS422:
HD67501-422-A1: RS232/RS422 / Modbus - Converter
HD67521-422-A1: RS232/RS422 / Modbus TCP - Converter
Serial / Modbus series
HD67501-A1
RS232/RS485 / Modbus - Converter ( Housing type: A, Terminal Blocks Connectors )


| | |
| --- | --- |
| Ports | 1xEthernet; 2xRS485; 1xRS232 |
| RS232 Connector | D-SUB9 |
| RS485 Connector | Terminal block |
| Ethernet Connector | RJ45 |
| Data Rates RS232 | Up to 115200 bps |
| Data Rates RS485 | Up to 115200 bps |
| Power Supply | 8...19V AC ; 8...35V DC |
| Power Supply Connector | 2way 5mm removable screw terminal |
| Operating Temperature | -40ºC/+85ºC (-40ºF/+185ºF) |
| Dimensions | 120x23x107 (DxWxH) |
| Weight | 200g approx |
| Mechanical Fixing | DIN Rail montage |
| Software | SW67501 |
HD67501-422-A1
RS232/RS422 / Modbus - Converter ( Housing type: A, Terminal Blocks Connectors )
| | |
| --- | --- |
| Ports | 1xEthernet; 2xRS422; 1xRS232 |
| RS232 Connector | D-SUB9 |
| RS485 Connector | Terminal block |
| Ethernet Connector | RJ45 |
| Data Rates RS232 | Up to 115200 bps |
| Data Rates RS422 | Up to 115200 bps |
| Power Supply | 8...19V AC ; 8...35V DC |
| Power Supply Connector | 2way 5mm removable screw terminal |
| Operating Temperature | -40ºC/+85ºC (-40ºF/+185ºF) |
| Dimensions | 120x23x107 (DxWxH) |
| Weight | 200g approx |
| Mechanical Fixing | DIN Rail montage |
| Software | SW67501 |
HD67521-A1
RS232/RS485 / Modbus TCP - Converter ( Housing type: A, Terminal Blocks Connectors )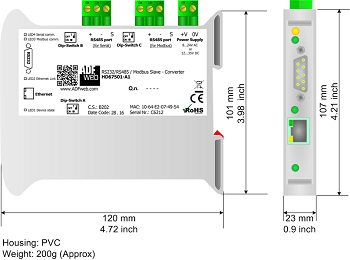 | | |
| --- | --- |
| Ports | 1xEthernet; 1xRS485; 1xRS232 |
| RS232 Connector | D-SUB9 |
| RS485 Connector | Terminal block |
| Ethernet Connector | RJ45 |
| Data Rates RS232 | Up to 115200 bps |
| Data Rates RS485 | Up to 115200 bps |
| Power Supply | 8...19V AC ; 8...35V DC |
| Power Supply Connector | 2way 5mm removable screw terminal |
| Operating Temperature | -40ºC/+85ºC (-40ºF/+185ºF) |
| Dimensions | 120x23x107 (DxWxH) |
| Weight | 200g approx |
| Mechanical Fixing | DIN Rail montage |
| Software | SW67521 |
HD67521-422-A1
RS232/RS422 / Modbus TCP - Converter ( Housing type: A, Terminal Blocks Connectors )
| | |
| --- | --- |
| Ports | 1xEthernet; 1xRS422; 1xRS232 |
| RS232 Connector | D-SUB9 |
| RS422 Connector | Terminal block |
| Ethernet Connector | RJ45 |
| Data Rates RS232 | Up to 115200 bps |
| Data Rates RS485 | Up to 115200 bps |
| Power Supply | 8...19V AC ; 8...35V DC |
| Power Supply Connector | 2way 5mm removable screw terminal |
| Operating Temperature | -40ºC/+85ºC (-40ºF/+185ºF) |
| Dimensions | 120x23x107 (DxWxH) |
| Weight | 200g approx |
| Mechanical Fixing | DIN Rail montage |
| Software | SW67521 |
Modbus RTU / Modbus ASCII series
HD67075-A1
Modbus RTU / Modbus ASCII - Converter ( Housing type: A, Terminal Blocks Connectors )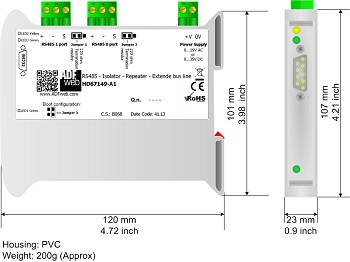 | | |
| --- | --- |
| Ports | 2xRS485; 1xRS232 |
| Data Rates Modbus RTU & ASCII | Up to 115200 bps |
| Power Supply | 8..19V AC ; 8..35V DC |
| Operating Temperature | -40ºC/+85ºC (-40ºF/+185ºF) |
| Dimensions | 120x23x107 mm(DxWxH) |
| Weight | 200g approx |
| Mechanical Fixing | DIN Rail montage |
| Software | SW67075 |
Series Modbus TCP Slave / Modbus Master
HD67507-A1
Modbus TCP Slave / Modbus Master - Converter ( Housing type: A, Terminal Blocks Connectors )
| | |
| --- | --- |
| Ports | 1xEthernet; 1xRS485; 1xRS232 |
| Data Rates Modbus | Up to 115200 bps |
| Power Supply | 8...19V AC ; 8...35V DC |
| Operating Temperature | -40ºC/+85ºC (-40ºF/+185ºF) |
| Dimensions | 120x23x107 (DxWxH) |
| Weight | 200g approx |
| Mechanical Fixing | DIN Rail montage |
| Software | SW67507 |
HD67508-A1-485
Modbus TCP Slave / Modbus Master - Converter ( Ethernet Switch Inside for enter/exit connection, Housing type: A, Terminal Blocks Connectors )( Modbus Master on RS485 )
| | |
| --- | --- |
| Ports | 1xRS485, 2xEthernet |
| Data Rates Serial | Up to 115200bps |
| Data Rates Ethernet | 10/100 Base-T Autosensing |
| Serial Connector | 3way 5mm removable screw terminal |
| Ethernet Connector | RJ45 |
| Power Supply Connector | 2way 5mm removable screw terminal |
| Power Supply | 8..24V AC ; 12..35V DC |
| Operating Temperature | -40ºC/+85ºC (-40ºF/+185ºF) |
| Dimensions | 120x23x107 (DxWxH) |
| Weight | 200g approx |
| Mechanical Fixing | DIN Rail montage |
| Software | SW67508 |
Series Modbus Slave / Modbus TCP Master
HD67510-A1
Modbus Slave / Modbus TCP Master - Converter ( Housing type: A, Terminal Blocks Connectors )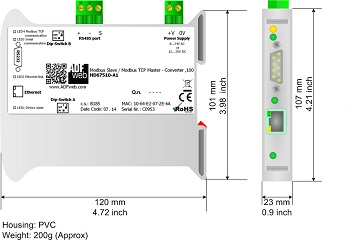 | | |
| --- | --- |
| Ports | 1xEthernet; 1xRS485; 1xRS232 |
| Data Rates Modbus TCP | 10/100 Mhz autosensing |
| Data Rates Modbus RTU | up to 115200 bps |
| Max Distance | Modbus TCP: 100m; Modbus RTU:1200m @ 115200 bps |
| Power Supply | 8...19V AC ; 8...35V DC |
| Operating Temperature | -40ºC/+85ºC (-40ºF/+185ºF) |
| Dimensions | 120x23x107 (DxWxH) |
| Weight | 200g approx |
| Mechanical Fixing | DIN Rail montage |
| Software | SW67510 |
HD67516-A1-485
Modbus Slave / Modbus TCP Master - Converter ( Ethernet Switch Inside for enter/exit connection, Housing type: A, Terminal Blocks Connectors )( Modbus Slave on RS485 )
| | |
| --- | --- |
| Ports | 1xRS485, 2xEthernet |
| Data Rates Serial | Up to 115200bps |
| Data Rates Ethernet | 10/100 Base-T Autosensing |
| Serial Connector | 3way 5mm removable screw terminal |
| Ethernet Connector | RJ45 |
| Power Supply Connector | 2way 5mm removable screw terminal |
| Power Supply | 8..24V AC ; 12..35V DC |
| Operating Temperature | -40ºC/+85ºC (-40ºF/+185ºF) |
| Dimensions | 120x23x107 (DxWxH) |
| Weight | 200g approx |
| Mechanical Fixing | DIN Rail montage |
| Software | SW67516 |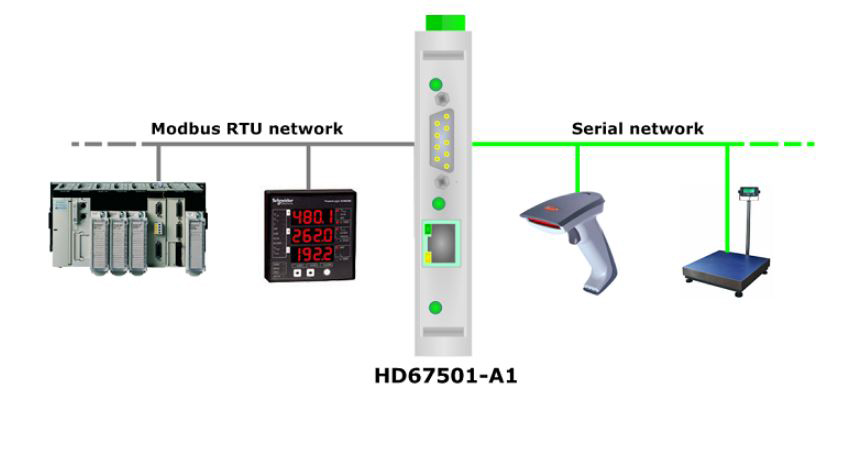 Accessories
| Order Code | Description |
| --- | --- |
| AC34011 | Isolated Converter 100..240V AC to 12V DC stabilized - AC/DC |
| AC34012 | Isolated Converter 100..240V AC to 24V DC stabilized - AC/DC |
| AC34107 | Null Modem Cable, Fem/Fem, DSub 9 Pin, 1.8 m |
| AC34114 | Null Modem Cable, Fem/Fem, DSub 9 Pin, 5 m |
| AC34131 | Patch Cross Cable Cat6 2 Meters |
Benefits
RS232/485 Selection
Support Modbus RTU and generic data mode
Software for easy configurator
Designed for serius use
Very easy to configure
Low cost
Rail din mountable
Wide supply input range
Galvanic isolation
Industrial temperature range: -30°C / 70°C (-22°F / 158°F)