GSM I/O and Alarms Modem
The GSM I/O and Alarms Modem is a powerful, flexible and economic instrument which is used to control Digital and Analog I/O by SMS or Phone Call.
It can be used for authorized door access, switching remote equipments, controlling gates or for monitoring a device status with possible alerts.
It can be used in places which is required the switching of any system or equipment ON/OFF remotely with a free call from an authorized mobile phone, or an equipment that require an Impulse with a certain duration.
There are no call costs because the device rejects the call (Hang-Up after a certain number of rings) from the authorized number and then executes the ON/OFF/Impulse action or can do the operation if the number of rings if upper or below a threshold.
The device is available in three models,these models differ in the type of Digital Input.
Main Characteristics:
2 Digital Input
2 Digital Output
1 Analog Input
Quadri-Band GSM Modem (850/900/1800/1900 MHz)
SMS alert of the change of state of the Digital/Analog Input
BENEFITS:
Software for easy configuration
SMS / Call for trigger an Output
Wide power input range (24V AC | 35V DC)
Mountable on 35mm Rail DIN
Industrial temperature range
HD67302-B2
GSM I/O and Alarms Modem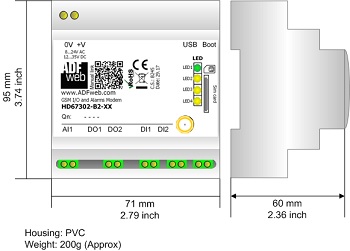 | | |
| --- | --- |
| Number of Digital Input | 2 |
| Number of Digital Output | 2 |
| Number of Analog Input | 1 |
| Antenna Connector | SMA Female |
| Connector | Fixed Screw Terminal |
| Power Supply | 8...19V AC; 8...35V DC |
| Operating Temperature | -20ºC/+70ºC (-4ºF/+158ºF) |
| Dimensions | 71x60x95 mm(DxWxH) |
| Weight | 200g approx |
| Mechanical Fixing | DIN Rail montage |
| Software | SW67302 |
HD67302-B2-20
GSM I/O and Alarms Modem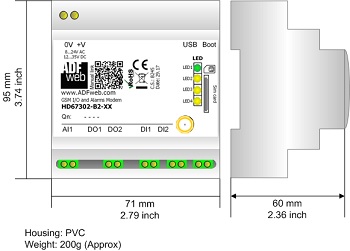 | | |
| --- | --- |
| Number of Digital Input | 2 |
| Number of Digital Output | 2 |
| Number of Analog Input | 1 |
| Antenna Connector | SMA Female |
| Connector | Fixed Screw Terminal |
| Power Supply | 8...19V AC; 8...35V DC |
| Operating Temperature | -20ºC/+70ºC (-4ºF/+158ºF) |
| Dimensions | 71x60x95 mm(DxWxH) |
| Weight | 200g approx |
| Mechanical Fixing | DIN Rail montage |
| Software | SW67302 |
HD67302-B2-11
GSM I/O and Alarms Modem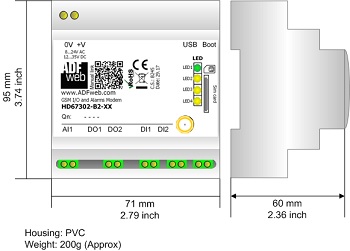 | | |
| --- | --- |
| Number of Digital Input | 2 |
| Number of Digital Output | 2 |
| Number of Analog Input | 1 |
| Antenna Connector | SMA Female |
| Connector | Fixed Screw Terminal |
| Power Supply | 8...19V AC; 8...35V DC |
| Operating Temperature | -20ºC/+70ºC (-4ºF/+158ºF) |
| Dimensions | 71x60x95 mm(DxWxH) |
| Weight | 200g approx |
| Mechanical Fixing | DIN Rail montage |
| Software | SW67302 |
Accessories
| Order Code | Description |
| --- | --- |
| AC34011 | Isolated Converter 100..240V AC to 12V DC stabilized - AC/DC |
| AC34012 | Isolated Converter 100..240V AC to 24V DC stabilized - AC/DC |