Part No: MPTC-USBAPP-Top16
Product Description
Generic interface to output devices such as relays, solenoids, strikes, low voltage lamps.
Read inputs from sensors and switches.
8 X Current sinking (switch to ground) outputs, 250mA to 30 Volts
Individual PWM control on all outputs
8 X Simultaneous Digital (0 to 30 V) and Analog Inputs (0 to 5 Volt single-ended 12 bit
USB powered
*USB Cable not included.
Software
top16DLL version 1.5 API (DLL) for windows applications.
Updated 01-December-2008:
SetOutputsB function added

Labview vi (6i and above) updated 24-July-2008
Top16 Manager version 2.0 Installer for Microsoft Windows. Change names and test Top16 IO boards.
*Requires
DOT NET Runtime (download here)
Top16 Manager Version 2.3 - compatibility with 64 bit Windows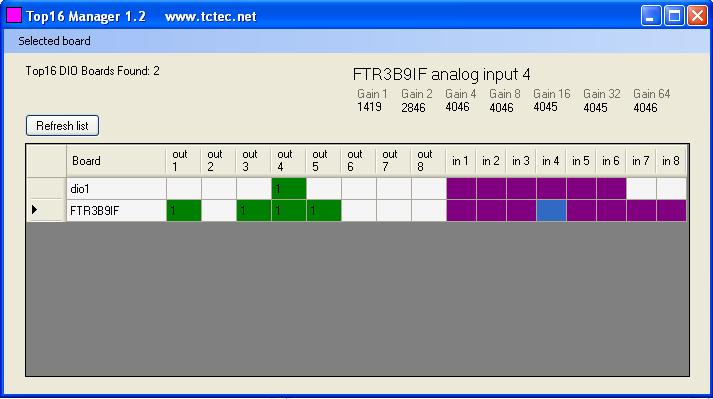 Application Examples
C # DotNet Example(uses top16.dll, ftd2xx.dll))
VB2005 example (uses top16.dll, ftd2xx.dll)
Measuring Temperature with Top16
Using Top16 as a virtual comport with serial text commands (PDF instructions)
Linux example in C - updated 15-March-2009
Uses D2XX shared object library for linux :http://www.ftdichip.com/Drivers/D2XX.htm
top16LinuxLibrary.h top16LinuxLibrary.c linuxlibrarytest.c
Stepper Motor Control
The outputs of the top16 can drive unipolar stepper motors at speeds up to 50Hz
C example using Jaycar YM-2751
Connection Diagram Unipolar steppermotor Jaycar YM-2751
Good Tutorial on Unipolar stepper motors: http://www.digital-diy.net/16F%20Examples/Stepper%20Motors%20-%20Unipolar.aspx
8 switch inputs, 8 Solid-state relay outputs.