Part No:MPELLI-USBAL-USB-Exp200
The Exp-200Plus is a non-intrusive high speed USB 2.0 protocol analyzer that enables you to display bus states, packets sent and decode descriptors of the USB protocol. It can detect errors in devices, host controllers, embedded softwares or drivers as well as measure their performance. Very simple to use, this USB analyzer is the ideal companion for anyone developing USB devices, hosts, embedded software or drivers.
Available in two distinctive versions, the Exp-200Plus will be matching perfectly your own development needs. The Standard Edition contains essential functionalities for every USB developer. The Professional Edition adds a hardware trigger, extensive USB classes decoders as well as a USB Analysis Development Kit enabling one to develop custom USB analysis software.
Software
The USB Analysis Software is available for download on our website. Many samples are included in it giving an extensive rundown of possibilities. Click the image to expand it.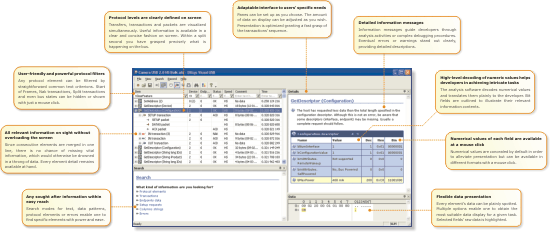 Hardware
A USB protocol analyzer enables engineers to actually see what the data on the USB bus looks like. Connected between a computer and a peripheral, the USB Explorer records all data, electrical states and control information transmitted on USB. It affects neither communication nor peripheral behavior.
Benefits
Saving on development and maintenance costs
Preventing simple errors from becoming intricate problems
Improving quality and reliability of USB subsystems
Streamlines development and testing processes
Accelerating learning curve for USB protocol
Unburdening technical support staff
Applications
Enumeration issues validation
USB device and host development
Performance analysis
USB drivers and software stacks debugging
Test-bench automation
Requirements
Pentium 4, 1 GHz or compatible processor
512 MBytes of RAM
1024 x 768 display resolution with at least 256 colors
USB 2.0 host controller
Windows® 2000 Service Pack 4 or higher, Windows® XP Service Pack 1 or higher
Internet Explorer 5.0 or higher
Specifications
Enclosure
Width: 150 mm (5.91 inches)
Length: 120 mm (4.72 inches)
Height: 65 mm (2.56 inches)
Weight: 750 g (1.7 pounds)
Analysis Computer connector
USB 2.0 high speed (480 Mbit/s)
Link Under Test connectors
USB 2.0 high speed (480 Mbit/s), full speed (12 Mbit/s) and low speed (1.5 Mbit/s)
Automatic speed discovery of Device Under Test
Trigger connector
Type: BNC
Input: 5V max, 1Mohms
Output: 3.3V, max 20mA
Absolute maximum ratings: -0.5V .. +6.5V, 50mA
Indicators
Power: illuminated when the analyzer in powered on
Activity: illuminated in green when packets are detected (in red when they are recorded)
Trigger: illuminated in green when a trigger is detected on input (in red when detected in output)
Memory
32 MBytes of FIFO memory
Analyzed data is transmitted continuously
Bus analysis
Timestamp: 16.67 ns (60 MHz) precision
Low-level errors: detection of bit-stuffing, CRC5 and CRC16 errors
Bus states: detection and measurement of Reset, Suspend, Keep Alive and High Speed Handshake states
Power Requirements
Powered by the USB bus of the Analysis computer
No external power supply needed
Hardware update
The decoding engine and firmware are automatically updated with each software release
Product Warranty
Two years limited warranty
Ellisys reserves the right to change the features and specifications of the product without notice.
Highlights
Compatible with all three USB 2.0 speeds
Automatic detection of the Link Under Test speed
Measurement of USB bus states and low level protocols
Highly affordable permitting to supply each developer with one unit
Non intrusive analysis
Small and robust enclosure, powered by the USB bus
Perfect for off-site interventions
Download of the analyzed data in real time with a high speed USB 2.0 connection
Scalable design of the hardware
Powerful hardware trigger
Display of transactions and transfers layers
High level decoding of standard requests and descriptors
High level decoding of classes requests and descriptors
Powerful display filters
Exportation of analyzed data to several formats (XML, text, raw, etc.)
Didactic display with reference to the specification
Software development kit available
Free viewer software
* 此產品除購買外,也可出租給有短期需求的使用者。